Short, Fiction
Year
2014
Running Time
23 min
Genre
Mystery
IMDB
Kazimir(2014)
Director
Dorian Boguta
Cast
Ion Rusu, Elias Ferkin, Iulia Verdes, Alexandru Papadopol, Vitalie Todirascu, Ion Alici, Nicoleta Rusu, Ion Paliu Photography: Liviu Pojoni
Scripwriter
Dorian Boguta
Cinematographer
Liviu Pojoni Jr.
Editor
Eugen Kelemen
Sound Designer
Alexandru Dumitru
Produced by
Saga Film
With the support of 
Romanian Film Center
Anonimul Foundation
Awards
Prix du premier film ou film d'ecole du conseil general du Finistre – Brest European Short Film Festival
Best Short Film – Dracula Film Festival
Festivals
Romanian Short Waves Program, Short Film Corner Section, Cannes Film Festival
Victoria Film Festival – Romania, 2014
Sighisoara Film Festival – Romania, 2014
Anonimul International Film Festival – Romania, 2013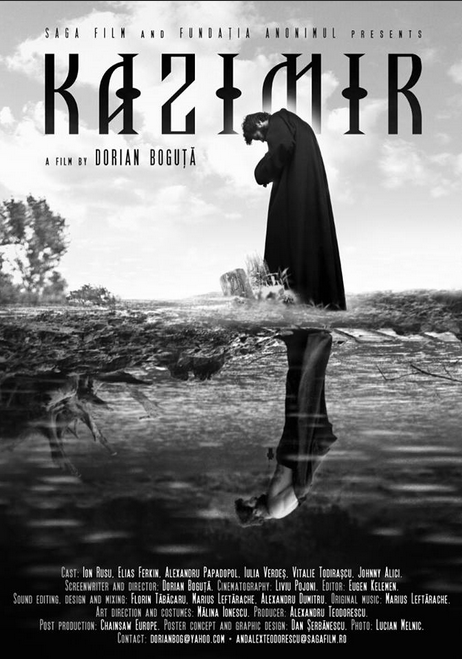 Synopsis
In a secluded village from the Danube Delta, a deacon called Kazimir uses his mysterious powers to heal the villagers of their afflictions. But the forces of good and evil balance each other, and the nights are not peaceful for Kazimir, the few inhabitants of Sfantu Gheorghe and some naïve visitors.  They couldn't have come at a worse time.
Alongside with "A duet" and "Square One", "Kazimir" is part of an omnibus film that was screened at Anonimul International Film Festival in 2013